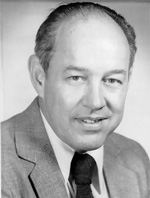 B. Jack Butler was raised near Astoria and received both his B.S. and M.S. degrees in agricultural en­gineering from the University of Illinois in 1948 and 1949.
He taught at the University of Missouri from 1949 until 1951 when he joined the USDA staff at
Toledo, Ohio. There he served one year as project leader of a study of corrosion and abrasion of sprayers and dusters. Following two years in the Marine Corps, he returned home to farm. In 1958 he returned to the University of Illinois, where he began a research program in agricultural chemical application equipment and techniques, and for many years he led a project for the Illinois Department of Transporta­tion on equipment and chemical needs for roadside maintenance.
Butler retired from the university in 1984 after twenty-six years of service. He distinguished himself in research, teaching, and student­ staff relations. In 1970, he won the William Everitt Award from the College of Engineering for outstanding teaching, and in 1983 he re­ceived the Stanley Pierce Award, also from the College of Engineer­ing, for the advancement of student-staff relationships.
Alumni remember him for the ability, when using the blackboard, to quickly solve a difficult problem that he had assigned to his class; he would do the math in his head, with no references or computa­tional aids.