Former ABE Instructor Proud to Give Back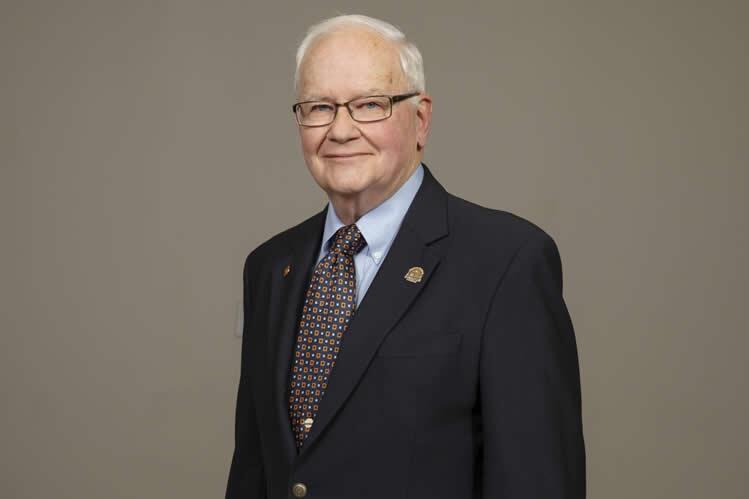 For years, Doug Bosworth has been contributing to the scholarship fund in the Department of Agricultural and Biological Engineering. However, that's not the contribution that brings him the most recognition in the department. ABE alumni and faculty alike admire Bosworth for his time spent as an ABE instructor, passing on valuable industry experience to students at his alma mater. 
After graduating from Iowa State with his bachelor's degree, Bosworth made his way to the University of Illinois to obtain his master's degree. Having started working for John Deere as an undergraduate through their co-op plan, he had a good idea of what he wanted to do. He joined the agricultural engineering program to specialize in theoretical and applied mechanics and graduated with his M.S. in 1964.
"I thought it was an advantage to go to a different school for my master's degree to meet more people and experience a different environment. Basically, get a fresh start," shared Bosworth, who came to Illinois with his wife and young son.
Although the move included some challenges, overall, he looks fondly on his time here. "I met a lot of people here, connections I've had throughout the years and that remain today. It was a good experience."
Bosworth believes that studying at the University of Illinois helped prepare him and led directly into his initial career at John Deere in testing farm equipment. That was only the beginning of a very successful career at John Deere as Bosworth progressed in the company quickly. Holding several management positions within different departments, he finished his career there as the manager for business opportunities at the John Deere Harvester Works.
After more than 30 years at John Deere, he and his late wife, Pat, returned to Champaign County, where he served as administrative principal of WorkSpan, Inc., helping to develop new businesses.
Upon his return to the campus area, Bosworth became even more connected to the Department of Agricultural and Biological Engineering as he took on a role of adjunct professor, teaching the senior capstone design course for agricultural engineering students. He was able to use his experience at Deere to help seniors prepare for work in industry by using the same techniques that had worked well for him.
He quickly became a popular addition to the department. Today, many ABE alumni recognize his name fondly. "I sort of became someone the students would talk to because I had industry background," he said. "It was fun. It was a great experience."
Bosworth's ties to the department have also remained strong because of a group of emeriti professors who have maintained a long-standing coffee group. When, because of COVID, they were unable to meet at their regular location, Perkins, on Tuesday mornings at 10 o'clock, they transitioned their coffee chats to Zoom.
Bosworth recently strengthened his connection and commitment to the Department of Agricultural and Biological Engineering, by formalizing an estate gift commitment. 
When he originally established the scholarship, he said he felt it was payback time, an opportunity to influence some other young lives. Since then, he has regularly enhanced the original gift. Bosworth said he felt like now was a good time to formalize his estate commitment, because he and his kids are financially secure. "It was something I felt was important and something I thought could do some people some good. So, I thought I'd make that commitment now and make sure the scholarship lasts for a long time and benefits a lot of people."
Bosworth hopes this scholarship will help develop leaders. He himself has not only maintained leadership in his career, but also in endeavors outside of his work. He was involved in the American Society of Agricultural and Biological Engineers (ASABE), serving a term as president, and he was part of the Engineering Accreditation Commission of ABET for more than two decades. He stressed the importance of being involved and developing leadership through experiences, describing the most successful people he hired and worked with as people who were real leaders.
When he began at Iowa State, Bosworth received a $200 scholarship from Alcoa. That scholarship meant a lot for him, and he reflects on that a lot when he thinks about his current giving. He explains that any amount helps students in their college education. He hopes that people who are successful after college realize this as well: that they can give back with any amount.
Bosworth now resides in Carmel, Indiana, with his wife, Judy. In true nature, he holds a leadership position for the community they live in, serving as president of its Residents Advisory Committee. He enjoys keeping up with both of his alma maters and is pleased to make a contribution.
"It's been very rewarding for me, and it gives me satisfaction to know students are benefitting from my work and my experiences."
The Department of Agricultural and Biological Engineering is under the College of ACES and the Grainger College of Engineering.