ABE Faculty and Students Honored with Awards for Excellence in Teaching, Research, and Extension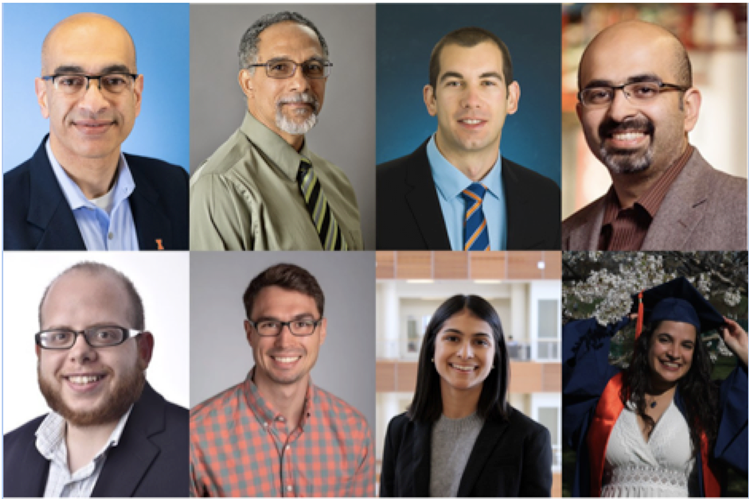 ABE professors Vijay Singh, Richard Cooke, Paul Davidson, Girish Chowdhary, Salah Issa, PhD candidate Jamison Watson, and undergraduate students Nina Chatrath and Mak Jarvis are receiving college- and campus-level awards for their excellence and innovation in research, teaching, extension, or leadership.
Vijay Singh is the recipient of the 2021 Paul A. Funk Recognition Award. Singh is Founder Professor in agricultural and biological engineering and director of the Integrated Bioprocessing Research Laboratory (IBRL).  He is an exceptional translational researcher in food and bioprocessing and has demonstrated leadership in bringing together colleagues in pursuit of multidisciplinary or emerging areas. Singh has been an investigator for more than $27 million research and $202 million center grants and has authored or co-authored more than 210 peer-reviewed articles and 14 U.S. patents related to corn processing and other bioprocessing technologies, nutraceuticals, food colorants and coproducts.
As a world-renowned, highly regarded expert in drainage engineering, Richard Cooke is the recipient of the 2021 Faculty Award for Global Impact. His work is increasing the efficiency of drainage-related best management practices and developing protocols for their design. Cooke has been very active in sharing his expertise in the international arena, including India, Sierra Leone, Brazil, among others. For example, Cooke is working with faculty members from agricultural engineering, agronomy, and agricultural economics at Njala University in Sierra Leone to determine the feasibility and economic viability of a new system for lowland development.
Paul Davidson, associate professor in ABE, is the winner of the 2021 Karl E. Gardner Outstanding Undergraduate Adviser Award from the College of ACES. He also received a 2021 Campus Award for Excellence in Undergraduate Teaching. Davidson is a highly respected and well-sought teacher and advisor for the ABE and Technical Systems Management (TSM) programs in the ABE Department. He has provided the leadership in the TSM program, including curriculum revisions and advising. He incorporates active learning into his courses to stimulate participation in small settings and conducts classroom debates – even in his large classes. He has been a faculty mentor for an Engineers Without Borders project in Guatemala, in which students designed a new drinking water system for a small community in the mountains. He also has led a USDA-funded fellowship program called Wildlife Engineers Co-managing Agriculture and Nature (WE CAN) that includes a four-week study-abroad program in South Africa.
A leading researcher in robotics and autonomous systems, Girish Chowdhary, associate professor and Donald Biggar Willet Faculty Fellow, has won the 2021 Faculty Award for Excellence in Research from the College of ACES. He won a comparable faculty research award from the Illinois Grainger College of Engineering in 2020. Chowdhary, who holds a joint appointment with computer science and ABE, has an impressive track record of creating collaborating teams of autonomous field robots for agricultural, defense, exploration, and other outdoor operations. These robots incorporate AI, learning, estimation, and control algorithms in order to solve real-world challenges in harsh, uncertain, and constantly changing environments.
Assistant professor Salah Issa and undergraduate student Mak Jarvis are members of the Soybean Innovation Lab, the winner of the 2021 Team Award of Excellence in the College of ACES. The Feed the Future Soybean Innovation Lab (SIL) works to improve food security and nutrition around the world. They provide evidence-based innovations, tools, and technologies across the value chain to enable sustainable livelihoods through profitable soybean production and utilization across Sub-Saharan Africa. Issa is a collaborator within the mechanization group at SIL. Issa is assessing worker safety of the multi-crop thresher developed by SIL and is developing engineering recommendations to improve safety and worker safety manuals for the technology.
Jamison Watson is the recipient of the 2021 Ross J. Martin Award by the Grainger College of Engineering for outstanding research achievement by a graduate student. Jamison, a PhD candidate in ABE working with Professor Yuanhui Zhang and a JBT Graduate Fellow, has led projects involving the waste-to-energy nexus, including the thermochemical conversion of wet bio-waste to biocrude oil, the production of hythane gas via biological conversion of waste products, the synthesis of hydrogen gas via gasification, and the upgrading of biocrude oil to jet fuel via distillation and catalytic upgrading techniques. His research efforts have culminated in the co-authored publication of 25 peer-reviewed articles in highly reputable journals.
Nina Chatrath has been selected as a 2021 Knight of St. Patrick in the Grainger College of Engineering. Nina is a May 2021 graduate in ABE with a minor in the Hoeft Technology & Management Program. Nina has held many leadership positions on the Engineering Council, serving as the Freshman President in her Freshman Year, Secretary/Treasurer, and then President. Through her undergraduate years, Nina has had incredible internship opportunities: at the U.S. House of Representatives in D.C. where she got to explore her interest in environmental policy, at Farm.One (a hydroponic startup in NYC) that gave her the chance to learn about new and leading tech in agriculture, and at Anheuser-Busch where she interned on the Innovation Team.