ASABE Recognizes Faculty Excellence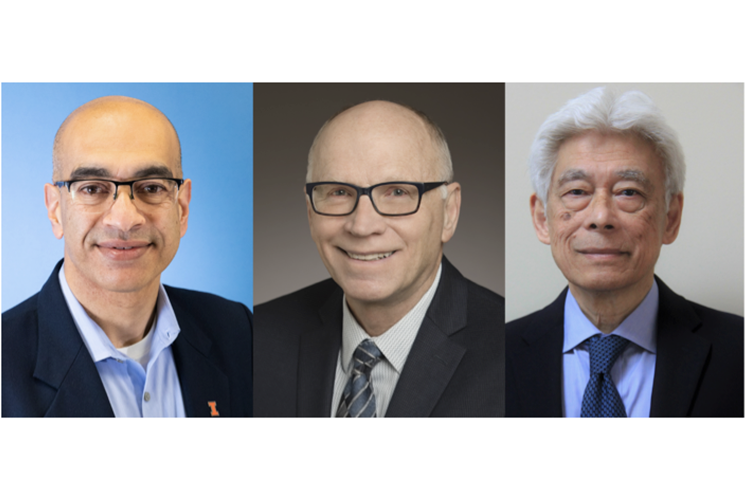 Excellence of faculty in the Department of Agricultural and Biological Engineering (ABE) at the U of I will again be on display at the 2021 Virtual Annual International Meeting of the American Society of Agricultural and Biological Engineers (ASABE) to be held in July 2021. Vijay Singh, Al Hansen, and KC Ting will be recognized for outstanding contributions in agricultural and biological engineering.
"This is great news for the department and the University of Illinois," said Ronaldo Maghirang, head of the ABE department. "We are excited to see our current and former faculty recognized for their outstanding achievements. It is a reflection of the quality of our faculty and programs in the department."
Vijay Singh will be inducted ASABE Fellow for outstanding contributions and innovation in the development and commercialization of novel corn processing and biofuels production processes. Singh is a Founder Professor in the Grainger College of Engineering, Distinguished Professor of Bioprocessing in the College of ACES, Director of Integrated Bioprocessing Research Laboratory (IBRL), and Deputy Director of the Center for Advanced Bioenergy and Bioproducts Innovation. His research is on the development of bioprocessing technologies for corn/biomass to ethanol, advanced biofuels, food and industrial products. Singh's recent research activities are at the nexus of plant biotechnology and bioprocessing and are leading the development of new technologies and renewable products in the industrial biotech space. As director of IBRL, Singh provides leadership in developing industrial partnerships, bioprocess pilot-scale proof-of-concept activities, and techno-economic analyses to facilitate commercialization of innovative technologies. He is author or coauthor of more than 300 peer-reviewed articles, conference proceeding papers, and book chapters, and holds 14 U.S. patents.
Al Hansen, professor emeritus, will receive the 2021 ASABE Massey-Ferguson Educational Gold Medal award. Hansen was the chief undergraduate adviser and chair of the courses and curriculum committee in the ABE Department for 16 years, thus significantly impacting the quality of the undergraduate ABE program. In that period, the ABE program was ranked in the top 3 nationally by US News and World Report for 14 years, and ranked number 1 nationally for 6 years. He served as chief advisor for 30 PhD and MS graduate students and supervised more than 50 students for undergraduate research. In 2004, he established a unique project-based study abroad program to South Africa involving teams of American and University of KwaZulu-Natal (UKZN) students addressing local community and industry needs. This program inspired four other faculty in the department to initiate similar study abroad programs to other countries. Hansen was a PI or co-PI in research programs in the areas of agricultural machinery systems and biofuels with funding of more than $15 million. He was the director of the Appropriate Scale Mechanization Consortium, a sub-award of the Sustainable Intensification Innovation Laboratory supported by USAID, with funding totaling close to $5 million for a period of five years beginning in September 2015. Under Hansen's leadership, this project has impacted four countries: Bangladesh, Cambodia, Ethiopia, and Burkina Faso, through the establishment of innovation hubs at universities in each country, along with field hubs, that have facilitated networking with local stakeholders, to promote a user-centric food and agricultural systems approach to identifying, testing and scaling up the use of suitable technologies, including creating opportunities for tertiary and outreach capacity building.
KC Ting is being recognized with the 2021 Lalit and Aruna Verma Award for Excellence in Global Engagement. He is professor and department head emeritus in the ABE Department, and consultant and former vice dean of the International Campus, Zhejiang University, China. Ting is known for his agricultural systems informatics and analytics work. He has been leading research teams to develop and implement the pioneering Automation-Culture-Environment oriented Systems (ACESys) analysis methodology, Concurrent Science, Engineering, and Technology (ConSEnT) decision support computational platform, and Intelligence Driven and Empowered Agricultural Systems (IDEAS). His work has been highly innovative and at the forefront of agricultural and biological engineering discipline. His ACESys concept, methodology, and tools have produced long-lasting engineering impacts to the agricultural and bio-production/bio-processing related profession and industry. He has been very active in sharing, in the U.S. and internationally, his knowledge on intelligent agricultural systems and agricultural and biological engineering education and research programs, including over 135 invited presentations and 30 academic program reviews. His contribution to engineering education in the U.S., Asia, Europe, and globally is highly impactful and widely recognized by his peers. He has provided effective leadership in applying the innovative systems approach to advancing agricultural and biological engineering discipline and empowering engineering students in academic programs. He served as department head/chair of agricultural and biological engineering related departments at three U.S. land-grant universities for a total of over 22 years before he was appointed professor and vice dean of International Campus, Zhejiang University in China, in January 2017 for four years, to provide his many years of technical and educational expertise to contribute in the development and establishment of a brand new university campus. The campus includes a very strong presence of engineering programs, in collaboration with the University of Illinois at Urbana-Champaign, in electrical engineering, computer engineering, mechanical engineering, and civil and environmental engineering. He made major impacts in the strategy development, master planning, and international climate building of this first class international higher education institution in China. In early 2020, he provided advice in modernizing the agricultural biosystems engineering program at Royal University of Agriculture in Cambodia.