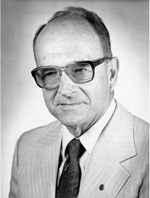 Roland Espenschied was born on a dairy farm near Marine, Illinois, on August 27, 1921. He gradu­ated from Marine High School in 1939, enrolled in the University of Illinois, and graduated with a B.S.in agriculture in 1943. His graduation occurred two months after he was called to active duty with the U. S. Marine Corps. He served as a range officer for anti-aircraft and field artillery in the Pacific Theater and was discharged from active duty in 1946, but he remained in the Marine Corps Reserve until 1981, when he retired as a lieutenant colonel.
After several years as a vocational agricultural instructor at Newton and later Fairfield, Illinois, he returned to the University of Illinois to complete an M.S. in education in 1951. After several more years as a vocational instructor at a high school in Franklin, Illinois, he returned to the University of Illinois in 1956 as a teaching assistant in agricul­tural engineering with additional responsibilities in Vocational Agri­culture Service. He was awarded an Ed.D. in 1961, appointed to the faculty of agricultural engineering, and served there until his retire­ment in 1988. He married Alice Brach in 1951, and had two children, Linda and David.
"Espy" had an enthusiasm for learning and application of knowl­edge for practical use that permeated his entire career. His infectious enthusiasm and love for students will be remembered by alumni. A special interest was the use of audio-visual aids for effective teaching.
Many of his students will remember his tray of glass eyes. Students in his shop class who were not taking proper safety precautions to pro­tect their eyes would find him behind them with a tray of "eyeballs." Espy would then inquire what color eyeball a student would prefer after the inevitable accident. It was an effective way to promote the use of safety goggles.
During his forty-one years of service as an educator Espy received many honors. In addition to many ASAE Blue Ribbon Awards he received for developing educational materials, he received certificates of appreciation for service from the National and Illinois Vocational Agricultural Teachers Association, the Illinois Farm Electrification Council, Farmland Industries, the National Food and Energy Coun­cil, and the Illinois Association of Community College Agriculture Instructors. He was also granted the State and American Farmer Awards from the Future Farmers of America.