ABE 469 Capstone Trade Show Exhibits Diverse Industry-Based Designs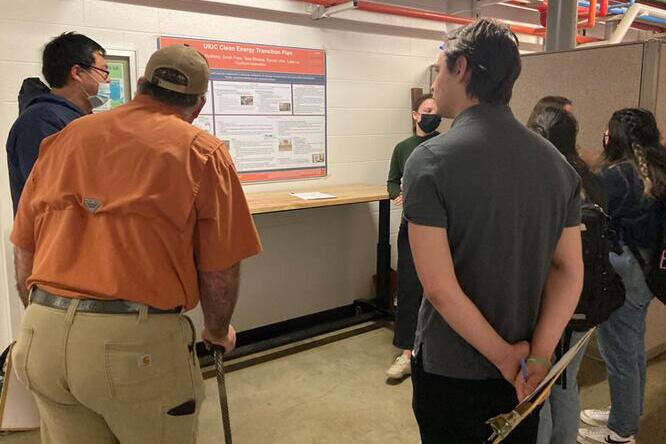 A piglet-warming trailer, an agricultural vehicle mobile weight distribution mechanism, and a deep-tunnel rain catchment system won top honors in the annual Capstone Associates Trade Show by ABE 469 Industry-Based Design Project teams on April 29, 2022.
Ten teams, composed of seniors in ABE working with real-world partners, displayed their innovations and solutions to address industry and non-profit partner needs in the agricultural and biological discipline. Clients ranged from John Deere and University of Illinois Facilities & Services to Universidad Privada Boliviana (UPB) and Agri Drain Corporation. A panel of judges, including faculty and graduate students, as well as alumni and industry associates, reviewed the displays to select the winner of the Richard C. and Helen Coddington Design Team Award.
Dr. Coddington himself announced this year's award during the course's final class. Winners of the Design Team Award were members of The Maschhoffs LLC team, consisting of Blake Meyer, Isiah Ramos, Alisha Riles, and Ian Zhang, who designed a warming system for piglet-transportation trailers. Second place in judging went to the CNH Industrial team, who devised a weight distribution mechanism that may be shifted on the fly for agricultural vehicles. The team consisted of Corey Beccue, Ethan MacKlin, Kieran Sloan, and Brooke Stuckemeyer. Third place went to the UPB team of Rose Carroll, Andrew Eltzroth, and Christina Ginocchio, who created a computer modeling program to predict performance of a fog-catcher technology in the Andes Mountains.
"It's always so rewarding to see our seniors progress from timid students to confident professionals as they tackle the challenges of a real design project," course instructor Ann-Perry Witmer said. "Every team is working on something different, but by mid-semester they recognize they're all dealing with the same obstacles – often unrelated to engineering design – so they pull together, encourage each other, and share resources. By the end of the course, the students truly have become more like collaborative workmates than classmates."
A People's Choice Award also was presented to the team that garnered the most votes among attendees of the trade show. First place in the People's Choice category went to the Sustainable Student Farms Rain Catchment team, who designed a gutter system for the farm's greenhouse structures. Team members were Wangqi Ma, Henal Patel, Gabby Plata, and Lane Weber. Second place was awarded to the CNH Industrial team, while third place went to the Illinois Institute for Sustainability in Energy and Environment team, who developed a campus carbon offset plan. Team members were Fina Healy, Rachel Pu, and Jane Williams, who worked in partnership with Sustainability Capstone collaborators Angela Andrada and Natalia Ptaszek.