ABE Capstone Course Features International Agricultural and Biological Engineering Projects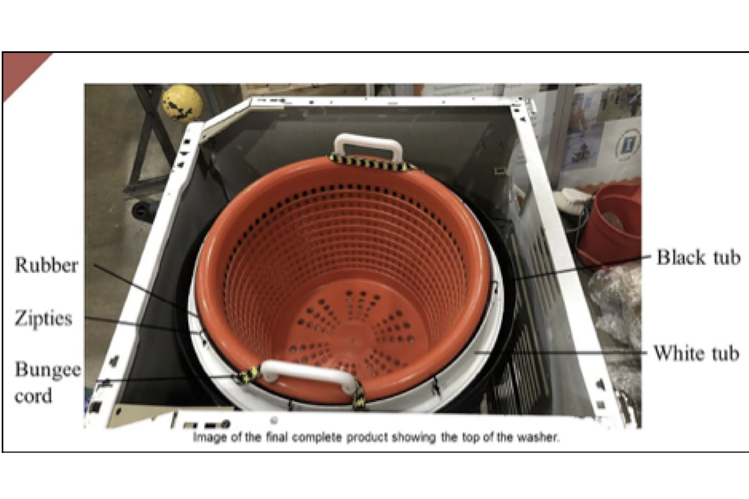 A power-generating wind turbine made of discarded auto parts, a grain dryer for Cardamom seed farmers in Guatemala, and an industrial sized salad spinner for commercial farming were among the innovative products that seniors produced this spring in the ABE 469 Industry-linked Design Project course.
Despite the impacts of COVID-19 on class meetings and design sessions, nearly three dozen students completed 12 projects to address agricultural and biological engineering needs for clients in the United States, Central America, Africa, South Asia, and Native American territories. The materials they used ranged from modern soil-moisture sensors to rock-filled gabions, as they tackled challenges with water resources, urban farming, post-harvest loss, and even effective prosthetics for farmer-amputees.
"This year's projects were delightfully international," instructor Ann-Perry Witmer said of the course's variety of designs. "One team was partnering with ag students at Njala University in Sierra Leone, Africa, to develop a ferry capable of transporting farm equipment between the campus and its fields, while another team was redesigning a failing potable water system for the Oglala Sioux in South Dakota."
The course operates as a simulated consulting firm, to which each student must apply and be assigned to a client project. While working on their engineering designs, the students also attended weekly Lunch 'n Learn sessions taught by guest experts to learn about workplace issues ranging from personal ethics and conflict resolution, to media relations and effective presentation skills. ABE 469 also is an advanced composition course, so client status reports were frequently required, along with personal journal reflections and expanded topic explorations.
The projects culminated in a virtual Capstone Trade Show, which was shared publicly online between May 1 and 3, allowing visitors to vote for their favorite project poster while a panel of distinguished judges evaluated the teams to award the Richard C. and Helen Coddington Design Team Award. More than 280 votes were tallied among the visitors during the exhibit period. This year's judges were Prof. Emeritus Alan Hansen, Associate Professors Paul Davidson and Angela Green-Miller, graduate students Daniela Markazi and Mariane Pastorelli Latanze, and External Advisory Committee members Greg Trame and Gayle Baker.
The winner of the Coddington Design Team Award was the Sustainable Student Farms Industrial Salad Spinner project, which was constructed using a retrofitted washing machine to cleanse 10-12 gallons of greens without damaging the produce (photo shown). Project team members were Grace McDonough, Zeyi Moo, and Nicholas Hoppe.
The People's Choice Award was given to the STaR Dryer team, which modified an STR dryer – commonly used in rural farming communities throughout the non-industrialized world – with a heat exchanger to improve performance and efficiency. Project team members were Rehnuma Mehzabin, Declan Cory, and Ezra Wallon.