Howard Wakeland is named a 2019 Distinguished Alumni in ABE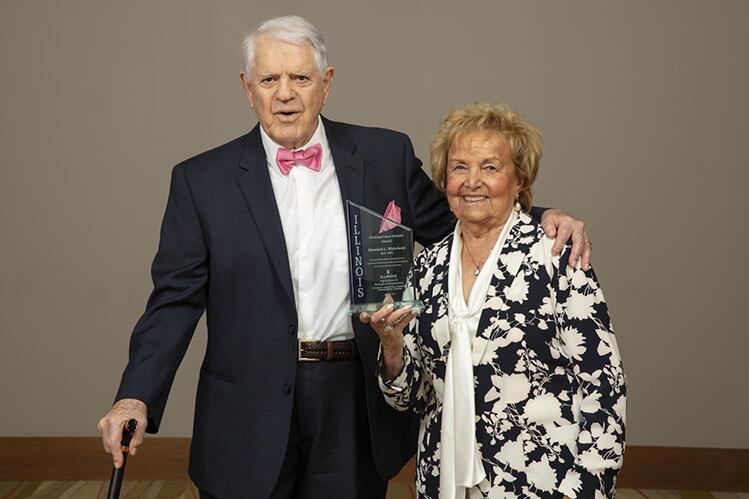 Howard Wakeland, MS '54 AgE, is one of two prominent alumni named as 2019 Distinguished Alumni in the Department of Agricultural and Biological Engineering. The award was established in 2008 to recognize alumni who have made great contributions to the field and have maintained ties to the department and the University.
"I officially retired in '93," says Wakeland, "but I finally got out of the office in 2003. I continued working part-time for ten years because of a variety of projects I was involved with." Wakeland began his time with the University in the Department of Agricultural Engineering, working his way through the ranks to full professor. During that same time, he took a position in the College of Engineering as an assistant dean and was soon promoted to associate dean.
"I was involved with directing undergraduate programming in Engineering, which included admissions, discipline, graduation, all kinds of student-related activities," he says. "That was my life for 39 years."
As associate dean, Wakeland began the "Revolving Deans" program in the College of Engineering. Faculty members from each department in the college would work out of the Dean's office half-time for one year. Wakeland noted that a number of the faculty from Agricultural Engineering eventually found their way into positions with the College of Engineering, including Roscoe Pershing, Don Hunt, Richard Coddington, Bruce Litchfield and Mike Hirschi.
Wakeland's last ten years at the University were spent checking and fine-tuning international programs he had set in place to provide opportunities for students to be involved in exchange programs with schools around the world.
"To arrange these programs," says Wakeland, "I would visit the country and the college or university we were working with and make an agreement with them. Then I would visit every other year to see how the program was going. The exchange fees we collected from their students helped pay for our students to visit their countries.
"It was a little like the United Nations," he continues. "We had programs everywhere - in Asia, South America, Europe, and Australia. We probably had over 200 students a year traveling somewhere abroad. And over that ten-year period, that included 30 or more students from Ag Engineering."
Wakeland was instrumental in establishing EAGLE, the Engineering Alliance for Global Education. "I wrote the proposal for that program, and we received seven million dollars from the federal government. Engineering students studied Japanese while they were in school in the States," he says. "Then they would go to Japan for an intensive language program. They came back here to finish their degree, and the idea was that after graduation, they could return to Japan to work for a firm there for a year.
"We ran that program for eight to ten years, and there were a number of other schools across the United States that were involved," he notes, "including Georgia Tech, the University of Texas, Arizona, Berkeley, Wisconsin, and Michigan. All total, about 400 students went through that program, and I think about half of them returned to Japan for that year of practical training."
Wakeland served on the boards of IAESTE (the International Association for the Exchange of Students for Technical Experience), an international organization exchanging students for technical work experience abroad, and ABET (the Accreditation Board for Engineering Technology). He is also a long-time member (and past president) of Rotary.
Today Wakeland lives in Urbana with his wife Joyce. He has four children, two stepchildren and 14 grandchildren. Wakeland says, "After retirement, I never wanted to sit in a rocking chair, so I went into the housing business with two of my four children, as part owner of Advantage Properties." Together they built eleven apartment buildings that house about 400 students a year.
Wakeland has a succinct bit of advice for today's graduates. "Don't be a braggart, but never fail to mention the University of Illinois when you can," he says. "Regardless of how we rank nationally, we are one of the great international schools. We are just as good as Harvard or Berkeley. Be very proud of your university, and don't hesitate to mention that U of I is your alma mater."