Illinois AgrAbility Celebrates 30 Years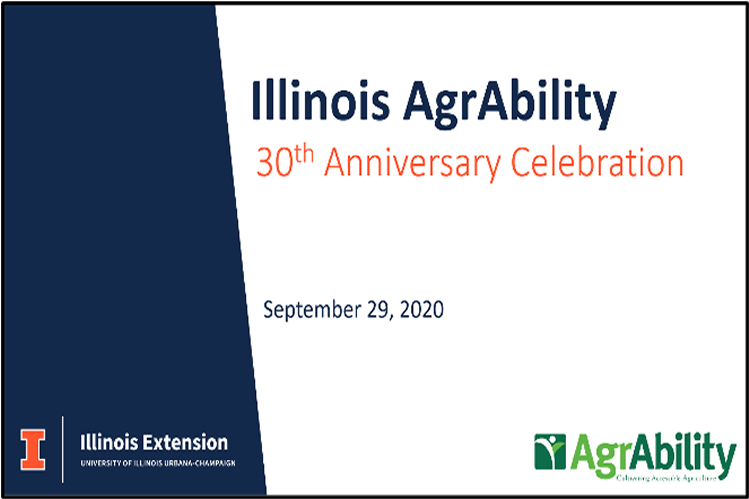 Illinois AgrAbility acknowledged 30 years of service to Illinois agricultural producers with a virtual Anniversary Celebration on September 29. Since 1990, Illinois AgrAbility has provided direct services to over 800 farmers with physical limitations and disabilities and provided education about assistive technologies and referrals to another 1200 producers.
"Illinois Extension is proud to partner with Illinois AgrAbility. For 30 years, AgrAbility has provided comprehensive assistance to farmers and agricultural workers with altered abilities and physical needs. We look forward to continued collaboration and to serving agricultural producers across our state," said Shelly Nickols-Richardson, Associate Dean and Director of Illinois Extension.
The virtual celebration included a brief history of Illinois AgrAbility by Dr. Robert Aherin and an overview of current and planned efforts by Dr. Josie Rudolphi. Special recognition was given to individuals and organizations who have been central to Illinois AgrAbility's success. Mary Kirby, USDA FSA, was recognized as an Outstanding Contributor. Mary has been instrumental in identifying AgrAbility Ambassadors and advocating for the program. Jim Williams was recognized for Outstanding Service to Illinois AgrAbility. Jim has served as a key advisor, volunteer, advocate, and friend to AgrAbility for 30 years. Don Skinner & Family were recognized as Outstanding Advocates for AgrAbility. Don was part of the core group of individuals who started Illinois AgrAbility and served as the chair of the AgrAbility Advisory Board for 25 years. Dr. Robert Aherin was recognized for his Outstanding Leadership to AgrAbility. Dr. Aherin was influential in organizing Illinois AgrAbility, developing partnerships, and securing federal funding for the program.
AgrAbility has been supported by federal funds from the USDA as well as generous donations from individuals and organizations which have provided services and assistive technologies to farmers in Illinois. Illinois AgrAbility will continue its tradition of providing services to agricultural producers and workers in Illinois. In addition, quarterly webinars will update advocates and stakeholders on AgrAbility topics and efforts. Contact Josie Rudolphi (josier@illinois.edu) to learn more about the quarterly webinars.  
To view the recorded presentation, click on this link: https://mediaspace.illinois.edu/media/t/1_qxs8x2h2  
To learn more about Illinois AgrAbility click here: https://agrabilityunlimited.org/