New Capstone Course Provides High-Impact Learning Experience for TSM Students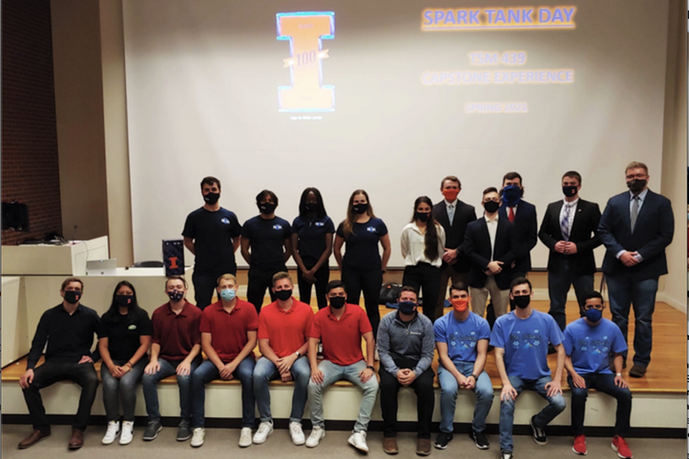 The Technical Systems Management (TSM) program serves approximately 200 undergraduate students. For the first time ever in Spring 2021 semester, some of the seniors had the opportunity to bring together the knowledge and skills from their first 3.5 years and apply them towards a capstone project in TSM 439 (Capstone Experience). This capstone course has long been discussed among faculty and staff, but the vision was put into motion when Paul Davidson, Associate Professor in the Department of Agricultural and Biological Engineering (ABE), received funding from the College of Agricultural, Consumer and Environmental Sciences (ACES) to develop the course in close partnership with his M.S. student, Travis Johnson.
"Travis was the perfect graduate student for the task at just the right time," Dr. Davidson said of Travis. "Travis completed his B.S. in TSM in May 2019 and pursued a job in private industry before realizing that his long-term passion was teaching. After a little more than a year working in industry, Travis came back to pursue his M.S. in TSM."
The course features a semester-long capstone project, but also entails smaller team-building in-class competitions that require students to think on their feet, deal with last-minute changes to project scope, and learn how to be productive in a team setting while having fun! Each team consisted of 2-4 students, depending on the project scope and needs. Project deliverables included project budget and justification, creating an owner's manual, evaluating the performance of a different team's project as well as the effectiveness of their testing and data collection process, development of a team website, and construction of a physical prototype. NovaCase designed and built a motion-activated box with UVC to sanitize phones and inactivate coronavirures as well as bacteria. AutoGate created an automated swinging cattle access gate, while MW2 created an automated sliding cattle access gate, both accessed by a remote control and powered by solar panels. Jetsons fabricated a jet engine test stand for in-house biofuel testing. Freight Farm Solutions designed and built a solar air heater for urban farming applications. Team BioBlocks developed concrete blocks from biomass for urban construction. 
The capstone projects culminated in Spark Tank Day, mimicking the well-known TV show Shark Tank.  Each of the six teams was allowed approximately five minutes to pitch their project to a team of Sharks, including Paul Ellinger, Associate Chancellor and Vice Provost for Budget & Resource Planning; Brian Jacobson, Assistant Director of Pilot Plant Operations; Ronaldo Maghirang, Professor and Head of ABE; Paul Stoddard, Senior Lecturer in Agricultural and Consumer Economics; and Ann Witmer, Instructor for the ABE Industry-Linked Project course. Following the project pitches, each team was asked a series of questions by the Sharks.
At the end of the event, each student was asked to invest $1,000 (imaginary) into any combinations of projects (other than their own, of course). The team receiving the greatest investment was NovaCase. Project team members were Tim Verlinsky, Alexandra Brown, Ololade Ayoola, and Kevin Zhagui.
Since the first offering was optional, Travis and Dr. Davidson were encouraged by the positive response from students. "The most useful new experience this course gave me was working hands on with an actual project and getting to build it," said one student. "In most classes you work on an imaginary project, but in this class, you actually get to build it!"
With the successful offering of the course, Travis will teach the course again in Spring 2022 and use data from the course as the basis of his M.S. thesis. Additionally, the course will transition into a required course in the TSM program.