Ross recognized with 2017 Distinguished Alumni Award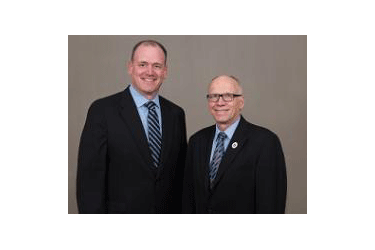 URBANA, Ill. - Jeremy Ross is the recipient of the 2017 Distinguished Alumni award for the Department of Agricultural and Biological Engineering. Ross, a 1995 graduate in agricultural mechanization, is the founder and CEO of First-Light USA, a company that designs and manufactures high-end tactical flashlights.
First-Light USA is located in Seymour, Ill., and Ross founded the company in September of 2004. Their products are primarily sold to customers within the military and to federal law enforcement agencies.
"Our lights are standard issue for Army combat medics and combat lifesavers and are widely accepted throughout special operations," said Ross. "We supply Abrams tank and aviation crews, EOD (explosive ordnance disposal) soldiers, Air Force security forces squadrons, National Guards, and Marine Corps elements.  Since our founding, we've delivered over 150,000 lights to the U.S. military."
In addition, First-Light's products have gained the favor of the FBI and U.S. Border Patrol and are popular among state and local law enforcement officers as well. "Our lights are extremely versatile, replacing a traditional flashlight, headlamp, and weapon-mounted light with a single device."   
Ross said budget challenges in the federal government over the last few years encouraged them to find an economical alternative to their most popular flashlight. "We took what was being well-received at a higher price point and came up with a polymer version that runs off simple AA batteries. It has a little less brightness, but a lot of the same functionality as our more expensive offering. It's turned out to be a good move."
The next step is to try and broaden their market by bringing their innovative products to the general public, said Ross. "We want to help people work in the dark at a higher level than they do today."
Although Ross is no long directly involved in the agriculture industry, his life and training in agriculture have enabled him to carry the ag mindset into everything he does. "My background in ag engineering taught me the logical way things work. The ag industry is the most common-sense industry out there," he said. "And the department at Illinois had a warm, almost family-like feeling to it. I credit men like Loren Bode, Phil Buriak, and Mike Hirschi with that. They really helped some of us shell-shocked, small town kids adapt to a big university."
Ross and his wife, Sarah, have three children, Mary Grace, William and Rachel. Sarah is also an Illinois graduate and was the Director of Alumni Relations for the College of ACES from 1998 to 2006.
Ross said he and his extended family are in the middle of renovating an 1880 farmhouse on the family farm outside of Tuscola. "We're really doing this in memory of my grandparents, and also to connect the next generation to the farm. We want it to be a special place for our kids, and eventually their kids, to enjoy."
The Department is proud to recognize Jeremy Ross, and we congratulate him as the recipient of the 2017 Agricultural and Biological Engineering Distinguished Alumni Award.