TSM 439 Capstone Spark Tank Showcases Industry Based Projects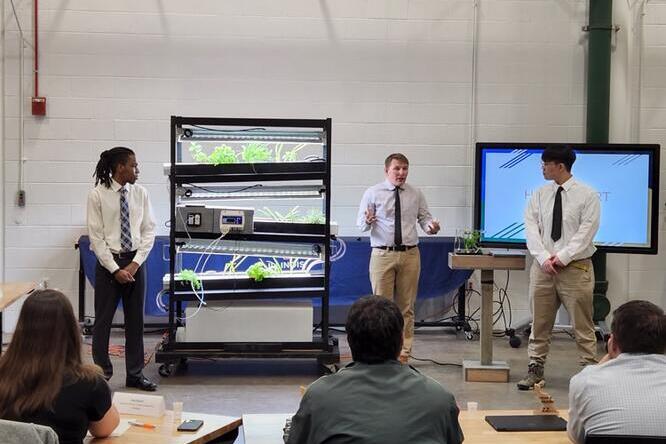 The Spring 2022 semester brought the second offering of the TSM 439 Capstone Experience. This course provided students the opportunity to apply their knowledge and skills from their entire college career into one hands-on project.  Five student teams designed, built, and tested prototypes that solve real-world problems in the agriculture, construction, and environmental sustainability industries. 
Working with industry partners this year proved to be a great opportunity for the students. Industry partners, Consolidated Grain & Barge (CGB), CNH Industrial, and Walkabout Mother Bins, dedicated their time, energy, and resources to support the student teams as they worked on projects. The Illini Grain team worked with CGB to develop a new system that more accurately measures the amount of grain in CGB's large grain bins, providing an outcome that will save CGB thousands of dollars every year.  The Soil-I team partnered with CNH Industrial to complete a meta-analysis on the integration of autonomy into tillage technology as well as develop an add-on thermal infrared sensor to be used on autonomous robots, provided by EarthSense, to sense soil moisture and temperature.  The Walkabout Mother Bins team took existing calculations and formatted them into an easy-to-use, online return-on-investment calculator for the sales team at Walkabout Mother Bins to show farmers how much time and money can be saved by utilizing a mother bin.
The remaining two capstone teams worked on in-house projects within the ABE department.  Printex constructed thermal enclosures for our department's 3D printers which incorporate temperature and humidity sensors and protect in-progress prints from air movements.  The Hidro Cart team created a mobile hydroponics docking station which monitors and adjusts nutrients and pH levels as well as a smaller hydroponics unit for classroom instructional use. 
This course culminates on Spark Tank Day, which uses a similar format to the popular show Shark Tank.  Students present a 7-minute pitch followed by questions from a panel of Sharks. This year's Shark panel included Dr. Neslihan Akdeniz (ABE clinical assistant professor), Alex Brown (former capstone student and current Industrial Engineering graduate student), Brian Jacobson (TSM alum and associate director of Food and Bioprocessing Pilot Plant Operations), Matt Riggs (TSM alum and co-owner of Riggs Brewing Company), and Jon Ross (Parkland College Engineering Science and Technologies Faculty Chair). 
Students voted for the top 3 awards with the panel of sharks voting for a "Sharks Choice Award."  The team winning the overall award as well as the "Sharks Choice Award" was Hidro Cart, consisting of Rod Clark, Robbie Schmidt, and Owen Yao.  Illini Grain came in second place, followed by Printex in third place.