Allen Rider is named a 2019 Distinguished Alumni in ABE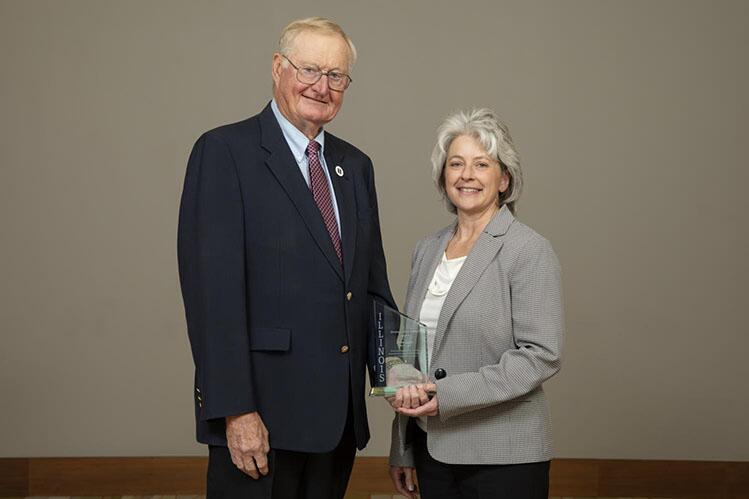 Allen Rider, Ph.D. '73 AgE, is one of two prominent alumni named as 2019 Distinguished Alumni in the Department of Agricultural and Biological Engineering. The award was established in 2008 to recognize alumni who have made great contributions to the field and have maintained ties to the department and University.
Rider has deep roots in agriculture. He grew up on a farm in northeastern Colorado, a farm he and his brother still manage today. After graduating with both a bachelor's and a master's in agricultural engineering from Colorado State University, Rider spent two years in the Army.
"I was stationed at Fort Belvoir, Virginia, where I went through the nine-week officer basic course. About six weeks in, the civilian department head for Roads and Airfield Construction contacted me with the request that I remain at the U.S. Army Engineering School as an instructor to manage testing of soils flown in from Vietnam. This was a great opportunity to utilize my engineering degrees and expand my knowledge of soils evaluation while sharing the information gleaned with field commanders in the theater of operations."
After his discharge from the Army, Rider felt he needed to earn his Ph.D. He wrote letters to ten schools, including Illinois. However, when Rider received a job offer from Proctor and Gamble, he decided to go back to work instead.
Dr. Frank Lanham, then the department head of Agricultural Engineering at Illinois, had offered Rider an assistantship and a fellowship. "I called Dr. Lanham to tell him I really appreciated his offer, but I was going to work for Proctor and Gamble," says Rider. "He asked me if I'd accepted their offer yet, and I said no. He said, 'Do me a favor. I'm going to send you a letter. Read it before you do anything.
"Well, I got his letter and read it. Dr. Lanham was a prolific letter writer and made it seem that the University of Illinois was going to close down if I didn't go to school here," Rider says with a laugh. "My wife and I decided it was a once-in-a-lifetime opportunity, so we came to Illinois. It was one of the smartest things I ever did."
After graduating in the spring of 1972, Rider began his career at Oklahoma State, where he developed nationally recognized extension and research programs in hay, forage, and livestock handling equipment.
"I started doing research with New Holland while I was at Oklahoma, and I continued when I moved to the University of Nebraska," says Rider. "New Holland kept asking me to come work for them. I said no, I'm a university guy, but one thing led to another and next thing you know I'm in Lancaster County with the company.
"I started as a senior research engineer, and every three years I had a new job. When I first took over test operations, the president called me in. He told me I was the conscience of the company. They wouldn't release a product unless I agreed. If it wasn't ready, I made the call. And he lived by his word. He was an engineer by training, so we got along very well." Rider eventually managed test operations for all products being developed.
In 1992, Rider was named vice president of engineering worldwide, which included North America, Brazil, Australia, and Europe. When he was named President of New Holland North America in 1996, he managed sales operations as well. "So I was in manufacturing, engineering, and sales," he says. "After 25 years with the company, I decided to retire and let younger people manage the operations."
Rider retired in 2004 and became actively involved in 25 by 25, a grass-roots initiative that set a goal for America to get 25 percent of its energy from renewable resources by the year 2025.
"At the time, we were spending a billion dollars a day to import oil, and that's changed dramatically," says Rider. "Today, we're exporters, and due to fracking, we also have a good supply of natural gas. We have been very successful in this country in finding new techniques to enhance the availability of fossil fuels. But we are still dealing with a finite supply, so I believe it's important to develop ethanol, solar power, and wind generation as safe, clean sources of alternative energy."
Rider says he envies today's graduates in the field of agricultural and biological engineering. "They are in a situation where the stars are aligned," he says. "First of all, the population of the world is going to go up two to three billion, depending on who you ask, over the next three decades, and they're going to need feed, food, fiber and fuel. These students are so well-trained in the technology that has become more and more engrained in agricultural and biological systems, they are going to be in high demand. They're sitting on a real opportunity!"
Since retiring, Rider and his wife, Renee, spend as much time as possible with their family – sons Randall and Richard and their four grandchildren. "It's a fun experience, watching them grow up," he concludes.