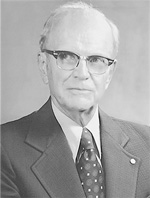 Ralph Hay was born on a farm near Parker, Kansas and graduated from Parker High School in 1925. He enrolled at Kansas State University, but his uni­versity education was interrupted for two years when he returned home to farm with his father.
During that time, he taught in a rural school. After his return to Kan­sas State, he received a B.S. degree in 1932, and then joined the U of I staff In 1951. He received his M.S. degree from Michigan State Uni­versity while on leave from the University.
Hay was instrumental in organizing more than thirty Soil and Water Conservation Districts in Illinois and served as executive secretary for the State Soil and Water Conservation Board from 1947 to 1951. He also helped form the Illinois Land Improvement Contractors As­sociation and served as its executive secretary from 1966 to 1972.
In 1954, Hay took a two-year assignment to develop an agricultural engineering department in the Indian Institute of Technology in Kharagpur, India. Two years after returning to the campus, he became the coordinator of international cooperative programs in the Provost's Office and was in charge of the India development contracts. He re­turned to India in 1962, where he served as a visiting professor and advisor to the Dean of Engineering at Uttar Pradesh Agricultural Uni­versity in Pant Nager. In 1985, he was invited to return to India to celebrate the twenty-fifth anniversary of the India Society of Agri­cultural Engineers, which he had helped found. Hay's contributions to international agriculture were so well recognized that he was the first recipient of the Kashida International Award of the   in 1978.
After his retirement in 1972, he worked as a consultant on many soil and water conservation problems throughout Illinois and in many other mid-western states. In recognition of his professional accom­plishments, he was named a Fellow in both the American Society of Agricultural Engineers and the Soil Conservation Society of America.