ABE distinguished alum takes the leap to new opportunities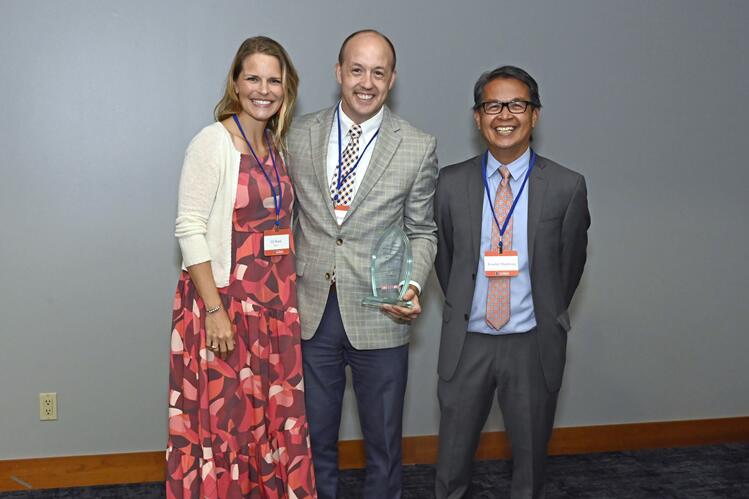 After graduating from ABE, Anthony Rund spent 16 years working for Caterpillar, Inc., rising to a global leadership position. Now he's ready for new challenges as an entrepreneur and business owner.
Rund, BS '04, AgE, is the recipient of the 2022 Young Alumni Achievement Award in the Department of Agricultural and Biological Engineering. The award was established in 2020 to recognize early to mid-career alumni who have demonstrated outstanding achievement since graduating from the ABE department.
Looking back at the proudest accomplishments of his career, Rund highlights his design patents for Caterpillar.
"It was always a dream of mine since I was little to design heavy equipment. And it still gives me chills, when I drive around and see somebody with equipment that incorporates my designs. I was able to get three design patents while in engineering for Caterpillar. I feel very fortunate to have had so many different opportunities and unique experiences within the company," he says.
Rund landed an internship with Caterpillar in Decatur between his junior and senior year at U of I, and that led to his first job after graduation.
"I went through Caterpillar's engineering rotation program, which served as a good opportunity to get exposure and experience in different parts of a large company. I met a lot of people, my network grew, and I gained experience in different areas from design to manufacturing, marketing and operations. I was able to experience a complete new product development cycle; everything from concept to seeing it built on the production line," he explains.
While he enjoyed working with machine design, Rund eventually became interested in the commercial side of business. He found there was a need for more people who could bring customer perspectives back to new product development.
He first attended Caterpillar's marketing training program, then became a product support rep. In this position, he served as a link between dealers, customers, and engineering product groups, solving problems and navigating customer interactions. 
Along the way, he also pursued a professional MBA through the Gies College of Business at U of I and received his degree in 2010.
"I enjoyed the commercial side of business so much I wanted to stay out in the field and get some experience on the sales side," he says. He worked in several sales positions on the East Coast, eventually returning to the Midwest and settling in Carmel, just north of Indianapolis.
In 2020, he became the global product marketing consultant supporting Caterpillar's medium tractor group, which includes heavy construction bulldozers and track loaders.
"I had go-to-market responsibility for any new product launches from that group. I worked with our global marketing teams to get input from customers and brought that back to the product development team. I had a seat with the new product introduction team, providing commercial input on market needs for the next generation of products four or five years down the road and beyond," he says.
"As we prepared to launch those new products, I led a team that managed everything from advertising and trade shows to product testing, in order to deliver a quality product with the right message to the market. It was a great way to bring together both my engineering and commercial experience."
Organizations, classes pave path
Rund grew up in Catlin, Illinois. His parents and their families were both engaged in agriculture.  He credits them for being strong, positive influences that helped him develop a passion for the industry, as well as the work ethic and courage to take on new challenges. Throughout high school he detassled and worked for a local farmer, which further developed that passion. His interest in ag engineering first led him to Eastern Illinois University. In 2002, he transferred to ABE at U of I.
"Ag engineering was always top of my mind, and I wanted to eventually work for an equipment manufacturer. My high school had 180 kids, so the fact that the ABE department was smaller and more close-knit, and offered machine engineering, that made for a great fit," Rund says.
Rund keeps in touch with several of his former professors, including Adjunct Professor Doug Bosworth, who taught the ABE capstone design course.
"That was a culmination of all the wonderful ABE courses I took, which provided me with the confidence to transition from academia to the demands and expectations of a job," Rund notes. 
Bosworth says Rund quickly assumed leadership on the four-person student team, working on a project sponsored by Caterpillar.
"These senior capstone teams didn't have formal elected leadership, so one of my goals was to observe and evaluate who took overall responsibility for the project," he notes. "For Anthony's team, 'Easy Access Systems,' there was no doubt he was that leader, one highly respected by the other team members.
"An attribute of Anthony's performance was that he was a born entrepreneur and could lead his own business. He had excellent ideas, lots of drive, enthusiasm, and great people skills," Bosworth adds.
In ABE, Rund became involved in student activities, including American Society of Agricultural and Biological Engineers (ASABE) and Illini Pullers, ABE's quarter scale tractor design team.
"Illini Pullers had a great impact on me. We were able to take things we learned in the classroom and put them into practice, figuring what worked and what didn't. It required a lot of hours. But that organization was absolutely a highlight for me," Rund says.
"I was very appreciative of the experience at Illinois, both through the student organizations and the faculty, especially the familial nature of the department and the connections I made."
Rund held several leadership positions in the organizations, including Advisory Board Chairman for the ASABE National Preprofessional Officer Team and vice-president of business and administration for Illini Pullers. 
"Anthony set an excellent example for other students to follow and I believe he left a lasting impression in the Department of Agricultural and Biological Engineering and in the Colleges of ACES and Engineering," says Al Hansen, emeritus professor and former interim department head.
"His leadership responsibilities brought him into contact with many fellow students and I believe he was an excellent role model for the younger students in the Department and the College of ACES and the Grainger College of Engineering. His involvement with other student organizations at a national level made him a valuable ambassador for the University of Illinois."
Design meets entrepreneurship
Last year, Rund decided to make a big leap and start his own business. He and his wife Jill, a school psychologist, and now a homemaker and artist, have four children ages 10, 8, 6 and 2. They had found a home in Carmel and wanted to stay in the area.
"Caterpillar is a great company to work for, but another move was probably coming up soon. And over the next 15 to 20 years, there would be quite a few other moves. Those would have been neat opportunities to go different places and have international experiences. But my wife and I have really found the place for our family here in the Indianapolis area, and we wanted to figure out what we can do to stay here long term," he says.
Rund became fascinated with the concept of acquisition entrepreneurship and began looking for opportunities to buy an existing business that already had employees and customers.
"I left Caterpillar in July 2021 on great terms; I gave them some notice so we could have a bit of overlap for a transition. The next opportunity was unknown at point, but I realized it would likely take a full-time effort to get a deal done, so after much prayer and planning with Jill, we made the leap. We closed on the business we currently own at the end of December," he says.
Rund's new business is Closets by Design, a company with about 30 employees that designs and installs closets and organization systems for homes and commercial spaces throughout Central Indiana.  
"We have a small facility that manufactures the product, and a team that installs it. We have a team of designers on the sales side that meets with customers to create custom design for their space. I also do marketing and advertising," he says.
"While it's a totally different industry and different products, I was attracted to the nature of the product, the business model, and opportunity for growth in the area. There's also a manufacturing component, with systems and processes where I can leverage my past   experience.
"There's no guarantee it will work out, but 15 years from now I probably would regret more not taking the opportunity to try it. Over the years, I have been fortunate enough to work alongside some of the best educators, engineers, and business leaders in the world. These experiences coupled with the support of my family have given me the confidence to take the leap and tackle this next challenge," he states.
Rund finds ABE prepared him well for his multi-faceted career trajectory.
"Looking back, probably the biggest takeaway was the ability to take a complicated problem and have the confidence to take it on, figure out a solution, and make it work. That was a skill I started to develop as a kid coming from a small town and going to a big school, then going to work for one of the biggest companies, and now jumping into something totally different," he concludes.
Rund continues his involvement with U of I, and he served on the ABE External Advisory Committee for several years.