Markazi honored as first-ever student speaker at ACES Convocation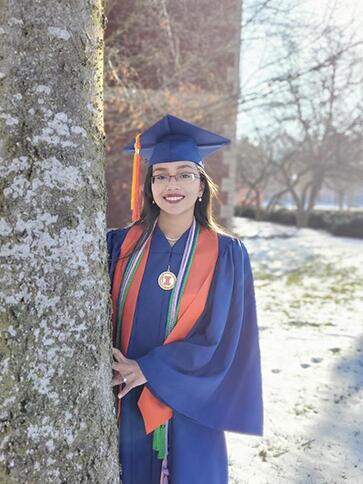 Daniela Markazi graduated from the University of Illinois in December 2019, with a dual degree in Agricultural and Biological Engineering, and a minor in Natural Resource Conservation. Daniela was the College of ACES's first-ever student speaker at the ACES Graduation and Convocation.
Daniela made her mark in the field of Ag and Bio Engineering in her first year of college, when she and three teammates designed, programmed, and built a robot that was able to detect objects in its path and find its way through a confined area. Their project won the ABE 100 poster competition. Daniela's passion for information science, robotics, and computer science led to three years of undergraduate research in software engineering, biological engineering, and robotics engineering. She was employed as a robotics engineer at the John Deere Technology and Innovation Center in Champaign, Illinois for more than two years, and during that time, she created software that is now being used and shipped throughout the world.
Daniela also created her own coding class, ABE 397: Mobile and Web Development for ABE students. Daniela taught the class for three years, and students learned how to code in Swift and create iPhone apps. She was an Engineering Learning Assistant (ELA) for ABE for two years and lead for one. As the lead ELA, she taught ENG 100: Illinois Engineering First-Year Experience, and changed the curriculum to include two hands on projects in the course. The first was a solar car design project for the agricultural side of ABE; the second was a sourdough bread project for the biological side, where students learned the engineering behind baking.
Daniela was named one of nine recipients of the 2019 Knights of St. Patrick Award, one of the most prestigious engineering honors for undergraduates at Illinois. Daniela has held a number of leadership positions in various organizations, including the National Center for Women and Information Technology (NCWIT), American Society of Agricultural and Biological Engineers (ASABE), Society of Women Engineers (SWE), Women in Engineering (WIE), and the UIUC Puerto Rico Disaster Relief Program. She is the current vice president of Reinvented, Inc., which is a non-profit organization that promotes and encourages young women to be involved in science, technology, engineering and math (STEM). They publish Reinvented Magazine, the nation's first-ever print magazine made for women in STEM by women in STEM.
Daniela will return to the University of Illinois at Urbana-Champaign in January 2020 to start her PhD in Informatics.