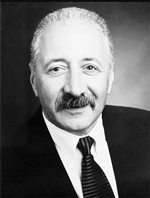 Philip Buriak was born June 22, 1950, in Johnstown, Pennsylvania to John and Elizabeth Buriak. He attended Westmont Hilltop High School where he met the love of his life, Carol Singel Buriak. They were married in 1974 and moved to Berwyn, Pennsylvania where Phil taught seventh grade life science for several years before attending graduate school. He obtained a bachelor of science degree in biology in 1972 and a master's degree in agricultural education in 1980 from Penn State University.
Philip continued his education at Ohio State University and was awarded a Ph.D. in 1982. After short stints of teaching at both Illinois State University and Mississippi State University, Philip moved to the University of Illinois (UIUC) as an associate professor in the Department of Agricultural and Biological Engineering. He became a full professor in 1997 and received numerous teaching awards but was most proud of the Distinguished Teacher/Scholar awarded to him by UIUC in 2000. He became a NACTA National Teaching Fellow in 2003 and was chosen by ASABE as a National Teaching Fellow in 2007. At his retirement, Philip was honored with a roast by colleagues and students of UIUC as a tribute to his outstanding contributions toward education.
Philip Buriak passed away on August 2, 2018. His legacy at UIUC will continue with the Dr. Phil and Carol Buriak Endowed Scholarship, which was established in 2007 to assist students who wish to travel internationally.