2020 ABE Awards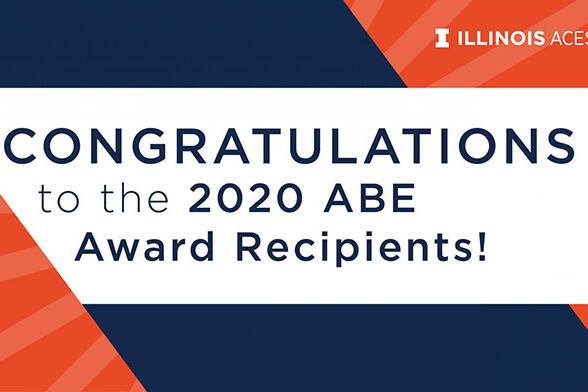 The Department of Agricultural and Biological Engineering would like to take this opportunity to recognize the outstanding achievements of our faculty, students and alumni. In a year that has brought unprecedented changes and challenges associated with the COVID-19 crisis, we are even more aware of the privilege to acknowledge the unique contributions and accomplishments of the people from our department.
This year we were able to award over $65,000 to more than 50 recipients. We truly appreciate the support and encouragement of our scholarship and award donors. Their generosity makes these awards possible.
We would like to note two special awards:
Dr. Paul Ellinger is the recipient of the 2020 ABE Distinguished Alumni Award. Dr. Ellinger holds a bachelor's degree in Agricultural Mechanization, a master's degree in Agricultural Economics, and a Ph.D. in Finance, all earned at the University of Illinois. He served as the department head of Agricultural and Consumer Economics. He is currently the Associate Chancellor and Vice Provost for Budget and Resource Planning. Dr. Ellinger has built and trained teams of dedicated professionals to sustain academic excellence and support faculty and students during these critical economic times.
Greg Trame is the recipient of the inaugural ABE Young Alumni Achievement Award. Mr. Trame is a 2002 graduate of Agricultural and Biological Engineering, specializing in Off-Road Equipment Engineering. He is currently the Director of Global Product Management – Grain and Seed for AGCO Corporation.  He has advanced in his responsibilities as engineering manager, global product manager/storage, senior manager/storage, and Director of Engineering – NA Grain with GSI Group, Inc., to his current position as Director. Mr. Trame has provided support for the Illini Pullers and the senior design class, and he is currently a member of the ABE External Advisory committee.
Following is a complete list of all the 2020 ABE Award winners. Congratulations, everyone!
ABE Distinguished Alumni Award – Paul Ellinger
ABE Young Alumni Achievement Award – Greg Trame
ASABE Central Illinois Section Future Leaders Scholarship – Neil Patel, Jane Halloran
H. Paul Bateman Congeniality – Tanner Scherer, Andrew Gould
Frank William Bauling Award / Bauling/Pershing Award – Corey Beccue, Ethan Hsiao, Ryan Fogle, Grace McDonough
Dr. Loren Bode Memorial Endowed Scholarship – Joseph Howard
Douglas L. Bosworth Agricultural and Biological Engineering Endowed Scholarship – Katie Koprowski
Wendell Bowers Agricultural & Biological Engineering Student Scholarship – Matthew Mote
Dr. Philip and Carol Buriak Award – Austin Ator, Rachel Tham
Helen R. and Richard C. Coddington International Experience Scholarship – Aiden Kamber
Richard C. and Helen Coddington ABE 469 Design Team Award – The Maschhoffs LLC team: Modeling Energy Consumption of Swine Barns. Team members Kyle Bright, Anne Reardon, and Tanner Scherer
ABE 469 People's Choice Award – The Mini Horse Power/Health Maker Lab team: Design of a Non-Invasive Electroencephalogram (EEG) Headset for Miniature Equine. Team members Jessica Halder and Jiawen Hu
Steve Eckhoff and Pioneer Hi-Bred International Agricultural Engineering Scholarship – Nathan Goebel
K.J.T. Ekblaw Outstanding Sophomore Award – Nico Vassilakis
C.E. Goering Award for Excellence – Robbie Schmidt
Robert J. Gustafson Endowed Scholarship – Yixiao Liu
Larry and Lola Huggins Scholarship – Nissa Larson
Ben and Georgeann Jones Undergraduate Student Scholarship – Brant Hoveln, Elisa Kim
Frank B. Lanham Award – Dan Marshall
E.W. Lehmann Award – Sarah Gardner, Lauren Lindow, Andrew Gould, Charlie Hoene
Bernard C. Mathews and Mathews Company Scholarship – Jiawen Hu
Loren R. Maxey Scholarship – Milan Leman
Ryan Tucker McGinn Memorial Award – John C. Campbell
Gary and Janet Uken Scholarship – Tanner Scherer
J.A. Weber Outstanding Freshman Award – Jay Rosentreter
John Deere Underrepresented Group Student Scholarship – Genevieve Korn, Anne Reardon
Illini Pullers Outstanding New Member – Peyton Ruwe
Illini Pullers Outstanding Member – William "Hunter" Bolen
ABE 100 Best Overall Awards
First Place: "Sustainabois" – Jacob Byrkit, Sylvia Fuge, Charles Hoene, Amelia Keating, Madeline McFadden, Liam Reynolds
Second Place: "Aguaco" – Madison Garcia, Musa Ibrahim, Sharon Kim, Bing Wu, Lisa Xue
Third place: "The Morrow Plots" – Oliver Darfler, Anna Hartley, Allison Higgins, Lexi Larson, Maxi Oey, Jon Persson
Kent and Marlene Mitchell Teaching Excellence Award – Matt Miller
Ben and Georgeann Jones Excellence in Teaching Award – Heather Vanheeswijk
Graduate Student Award for Research Excellence – Chinmay Kurambhatti
Faculty Award for Research Excellence – Maria Chu