ABE Celebrates 100th Anniversary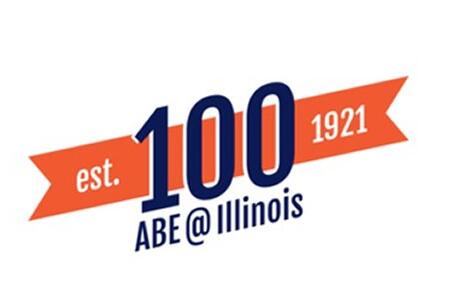 The Agricultural and Biological Engineering Department (ABE) at the University of Illinois Urbana-Champaign celebrated its 100th anniversary on Friday, September 17. The department was formed in 1921 as the Department of Farm Mechanics. Since then, faculty, staff, and students have made pioneering work and significant contributions in many areas, enabling them to improve people's quality of life and make agriculture more efficient, resilient, and sustainable.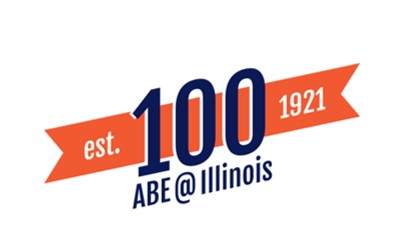 The event kicked off with an ABE i4 seminar honoring our 2021 alumni award recipients, Gary LaForge and Scott Dixon. LaForge, president of LaForge & Associates, LLC and 1984 graduate in agricultural engineering, is the recipient of the 2021 ABE Distinguished Alumni Award. Dixon, an entrepreneur, is the recipient of the 2021 ABE Young Alumni Achievement Award and a 2004 (BS) and 2006 (MS) graduate in agricultural engineering.
"The faculty here are fantastic, that goes without saying, so students, take as much of that with you as you can. Absorb it into your process. Continue to build those relationships," said LaForge.
"I greatly appreciate being recognized as the 2021 Young Alumni Achievement Award winner.  I am excited about the future for ABE and look forward to continuing to support in any way I can," said Dixon.
The i4 seminar was followed by a forum with college and department thought leaders, including Rashid Bashir, Kimberlee Kidwell, Roscoe Pershing, and KC Ting.
Bashir, dean of The Grainger College of Engineering and Grainger Distinguished Chair, said, "Even with our major accomplishments in the past, I think we need to continue to challenge ourselves. The Grainger College of Engineering, along with our partners across campus, are constantly pushing ourselves to keep thinking forward, to innovate and to accelerate the discovery process."
Kidwell, associate chancellor for Strategic Partnerships and Initiatives and former dean of the College of ACES, said, "ABE is a special place for translational research, for our students, and for agriculture's monumentally important role in the future of our world. The work happening here is critical and has been for a glorious 100 years. I have no doubt that the great minds, the hard work, and your future focus will make ABE's next 100 years glorious as well."
Pershing, who holds the distinction of receiving the first PhD degree the U of I granted in agricultural engineering, was head of the department from 1985 to 1993. Ting, who received his PhD in agricultural engineering in 1980 from the department, was head from 2004 to 2016. Both have led the way and have been instrumental for the sustained excellence of the department. They shared their experiences and vision for the department.
In the afternoon, guests were given tours headed by students and faculty of the Integrated Bioprocessing Research Laboratory (IBRL), Field Research Engineering and Sciences Hub (FRESH), the Agricultural Engineering Sciences Building, and the ABE Farm Research & Training Center. Afterwards, a reception honored scholarship/award recipients, donors, alumni, and friends.
If you missed the seminar and the forum, you may view the recording at: https://mediaspace.illinois.edu/media/t/1_q8mkavze