George Clark Honored as ABE Distinguished Alum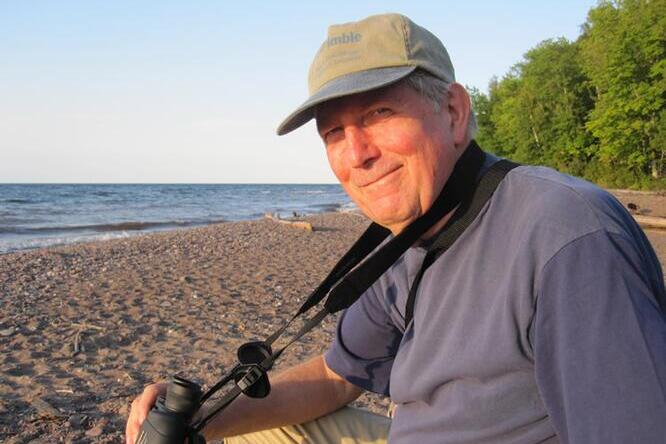 George Clark
George Clark honored as ABE distinguished alum
George Clark started his career with Ford Tractor Operations in Michigan and ended up as chief engineer for CASE IH Magnum tractors. Along the way he travelled the world, including a 7-year stint in England.
Clark, MS '72, AgE, is the recipient of the 2022 Distinguished Alumni Award in the Department of Agricultural and Biological Engineering. The award was established in 2008 to recognize alumni who have made great contributions to the field and have maintained ties to the department and the University.
Clark grew up near Lancaster, Pennsylvania, and received his B.S. from Penn State. He came to ABE for his Master's degree.
"At the at time various graduate schools around the country recruited you. The University of Illinois looked like a good place," he says.
And it proved to be a good fit.
"The faculty were quite demanding. But at the same time, they gave you a lot of latitude to do your own thing, to take responsibility for what you were doing in graduate school. I think that combination of demanding, but giving you a lot of rope, was very good. It helped you develop your confidence," Clark notes.
Midway through graduate studies Clark was drafted into the U.S. army and served in Vietnam. He returned to ABE and completed his master's degree in 1972.
From Ford Tractor Operations to Case New Holland
From his early days on the Ford Tractor Operations training program to his ultimate role as chief engineer for Magnum Tractors in Burr Ridge, Illinois, he saw changes not only in name and ownership of the company but also in the application of technology in design.
"After the training program, I spent a year and a half in hydrology and hydraulics testing, two years in hydraulics design, and then four years in product planning for new program tractors," he says.
He went on to become supervisor of transmission design, manager of drive line strategy, field test manager, and eventually worldwide vehicle design manager.
Along the way he also got an MBA degree from University of Detroit.
"The MBA provided a strong foundation in accounting, finance and marketing. I think that helped a lot in the progression to become a manager, because it gave me a broad perspective," he says.
Career highlights include tractor transmissions design, management
Clark recounts several highlights of his long career. A major accomplishment was the transmissions design for 70 to 140 horsepower tractors.
"The transmission was designed in the 80s and early 90s in Troy, Michigan, then New Holland, Pennsylvania, and was manufactured in Antwerp, Belgium. It was a global transmission for tractors sold all over the world," he explains. "As far as I know, it's still in production. That's something I'm quite proud of."  
When the company moved to New Holland in 1988, not one engineer moved, so Clark oversaw the development of a whole new team in design and testing. "It was quite a complicated process, and it made for a very challenging, but also very rewarding time," he notes.
Allen Rider, retired president of New Holland North America, first got to know Clark when they were both graduate students in ABE, and later they became colleagues at Ford New Holland.
"After graduation, George accepted an engineering position with Ford Tractor. Several years later in 1985, Ford Tractor purchased Sperry New Holland and merged the two companies," Rider says. "During this timeframe, I became even more impressed with George's ability as an engineer. He was leading a group of engineers on transmission design for the single biggest tractor development program that Ford Tractor had ever undertaken. His expertise was key to the success of this program."
Chief engineer with an international perspective
In 1994 after the purchase of Ford New Holland by Fiat, Clark moved to Basildon, 30 miles east of London, as vehicle test manager. He moved on to become chief engineer for the Basildon site and world-wide vehicle design manager, which also included locations in Modena, Italy, Curitiba, Brazil and Winnipeg, Canada. The majority of tractor engineering was concentrated in Basildon and Modena.
"We combined the Fiat Agra tractors and the Ford tractor platforms and came out with a new line of tractors. This was very rewarding from both a technical perspective and cultural integration," he states.
In 2001, soon after Fiat purchased Case IH, Clark returned to the U.S. as chief engineer for Magnum tractors in Burr Ridge, where he worked until his retirement in 2009.
"The big task was bringing to market New Holland tractors in the over-200-HP-range using the Magnum powertrain while retaining the New Holland legacy. The other rewarding experience was developing a tractor to fill the gap in the 200 HP range for the Magnum tractors. We combined the New Holland powertrain from Antwerp with the Case IH cab with a few tweaks," he states.
Rider says George's leadership was critical during the company relocations.
"George was a valued member of the development team and was willing to make commitments requiring lifestyle changes. Only the best survive these type of company reorganizations and continue to perform at the highest level in a managerial position. Not only did he possess critical technical skills, he was highly respected by superiors, colleagues and subordinates.
"He has utilized the skills gained from his education at the University of Illinois into a very successful design and leadership career," Rider states.
At the U of I, Clark met his wife Barbara, who hails from Butler, Illinois. She holds a bachelor's degree from the College of Liberal Arts and Sciences.
George and Barbara now live in Chicago. George plays competitive bridge and is an avid reader, and he and Barbara are involved with community gardening. Barbara has volunteered with various organizations, including the Illinois 4-H Foundation.
The Clarks have supported the College of ACES and University of Illinois over the years. They contributed to the renovation of Turner Hall, and they also continue to support ABE.
"I'm very grateful for the education, training and development that I got at both Penn State and U of I. I think the professors were excellent, and the programs challenging. Ag engineering provided a very broad background, which I think is very helpful," he concludes. "Looking back, my time at the U of I was really a tremendous period. And I think it helped a lot in setting me on the path."